The National Competence Centre for HPC organizes the first Hackathon

---
May 21 - 28, 2021
#HACKATHON
#1 CHALLENGE IN 1 WEEK
With the planned expansion of the Slovak HPC infrastructure we hope to expand the HPC community as well and welcome new users from SMEs, industry, start-ups and public sector as well. Having the end users comfort in mind, we would like to offer simple and flexible tools for managing computational tasks and resources.
Join in our effort and help create an application for the new (and old :) Slovak supercomputer!
Join us to learn new things, meet new friends and compete for prizes. The winner gets the 1500 € prize, but there are many interesting prizes such as reMarkable tablet, e-reader Kindle Oasis, earphones Apple airpods, fitness band, free webhosting from WebSupport for 1 year and more!
WHAT IS THE CHALLENGE?
Developing an iOS/android application for Slovak HPC users to monitor and manage their computational tasks, provide information about available resources, energy consumption and the status of their user account.
We aim to develop an open-source application that will be freely available for further enhancement and adding even more features. We see this as a chance for the authors of the app to add this project to their reference portfolio. Should you have any questions regarding the topics, goals or other aspects of the NCC Hackathon, please, contact us at hackathon@nscc.sk – we are looking forward to hearing from you!
Before the NCC Hackathon takes place you are welcome to join us for webinars with HPC experts. We will show you the HPC environment, how the supercomputers work and how to submit and monitor the tasks. Our experts and mentors are available for consultations during the NCC Hackathon and will be happy to help! Follow our latest news on the NCC webpage or social media.
---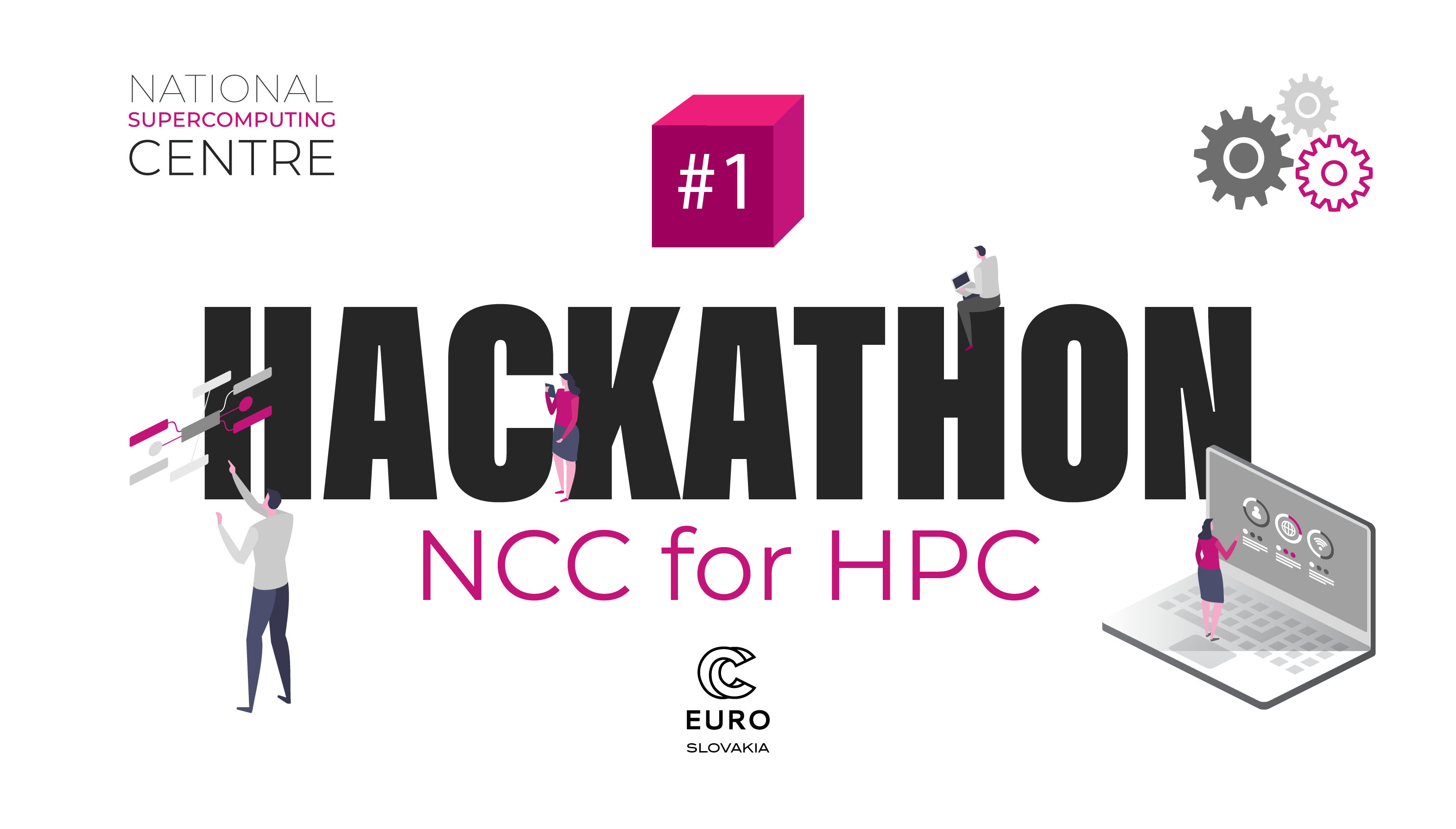 What is a hackathon?
A hackathon is an event that brings together software developers, graphic designers or webdesigners to collaborate on a given project. The goal of a hackathon event is generally to solve a specific software problem or design an IT application. Hackathon events might also be organized as educational events for students or interested participants. A hackathon, usually lasting from one day to one week, has a specific goal and topic (such as programming language, operating system, application or API), depending on the event organizer. The word "hackathon" is a combination of the words "hack" and "marathon". The words "hack" and "hacker" emerged in the 1960s in the MIT university environment and refer to creative and innovative software solutions, not to more contemporary meaning of a computer security breach.
Let us know about your ideas!
The National Competence Centre plans to organize several hackathons and intends to solve some interesting problems. However, we would like the topic of our hackathons to rise from the real problems and challenges that you are facing, be it in your research, business or just everyday life. Let us know about your ideas and we will consider one or several of them for the next NCC hackathon event.