Invitation: Qubit Cybersecurity Conference Tatry 2022
After last year's successful event, you can already look forward to the 2nd edition of the Qubit Tatry 2022 conference.
On November 9-10, 2022 at the Grand Jasná Hotel Jasná , interesting speakers and panel discussions, sharing of practical experience of professionals in the field of information and cyber security, interactive training, club meetings and popular networking await you. Come and share valuable knowledge and experience in the area of development, current regulations and trends in IT security and digital transformation, taking into account the key ways of managing organizations.
Do not miss:
Inspirational panel discussions and presentations by leading speakers.
5 main topics - cloud security, AI and new dimensions of information security, unpredictable incidents or security architecture.
Original trainings in a fun way.
3 club meetings - CISO, Audit and DPO Club.
Popular networking events, VIP receptions and exclusive meeting opportunities.
Take part in the Qubit Tatry 2022 conference and don't miss a unique opportunity for education, presentation of your company and establishing new partnership and professional relationships on the Slovak and Czech cybersec market.
Register your participation in the event today!
The mission of Qubit Conference is to build a professional community of experts in the cybersecurity industry through networking and partnerships through highly professional educational events characterized by a professional approach and a friendly atmosphere.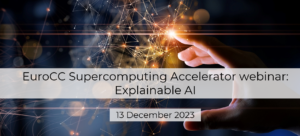 EuroCC Supercomputing Accelerator webinar: Explainable AI
30 Nov
-
EuroCC Slovakia has joined the #EuroCC Supercomputing Accelerator. The Supercomputing accelerator is a one-stop shop for adopting supercomputing to your advantage and save money. Join us for our webinar, which will be on the topic of: Explainable #AI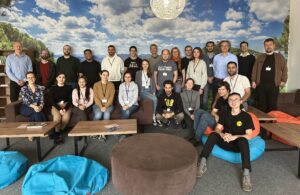 NCC and CoE Collaboration: BioExcel Workshop on GROMACS and HADDOCK
24 Oct
-
V dňoch 18. a 19. októbra 2023 sa v Bratislave konal workshop zameraný na prácu so softvérovými nástrojmi GROMACS a HADDOCK. Workshop bol výsledkom spolupráce kompetenčných centier na Slovensku, v Rakúsku, Českej republike a Maďarsku s centrom excelentnosti BioExcel. Tím BioExcel CoE vyvíja obe aplikácie a tak mohli skúsení lektori nielen ukázať bežné simulácie a modelovanie, ale aj odpovedať na špecifické otázky účastníkov.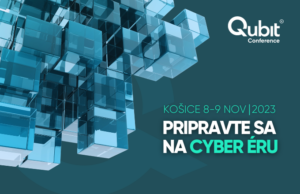 Až 43% kybernetických útokov je zameraných  na malé a stredné podniky
23 Oct
-
V minulom roku až 40 % malých podnikov oznámilo stratu údajov v dôsledku kybernetického útoku, čo spôsobilo ich značné narušenie fungovania, finančné straty, poškodenie dobrého mena a odliv zákazníkov z dôvodu obáv o bezpečnosť a ochranu ich osobných dát.