The Fourteenth Call for Applications to SHAPE

---
Type of Access: SHAPE
Opening Date: 01/10/2021
Closing Date: 15/11/2021 Brussels Time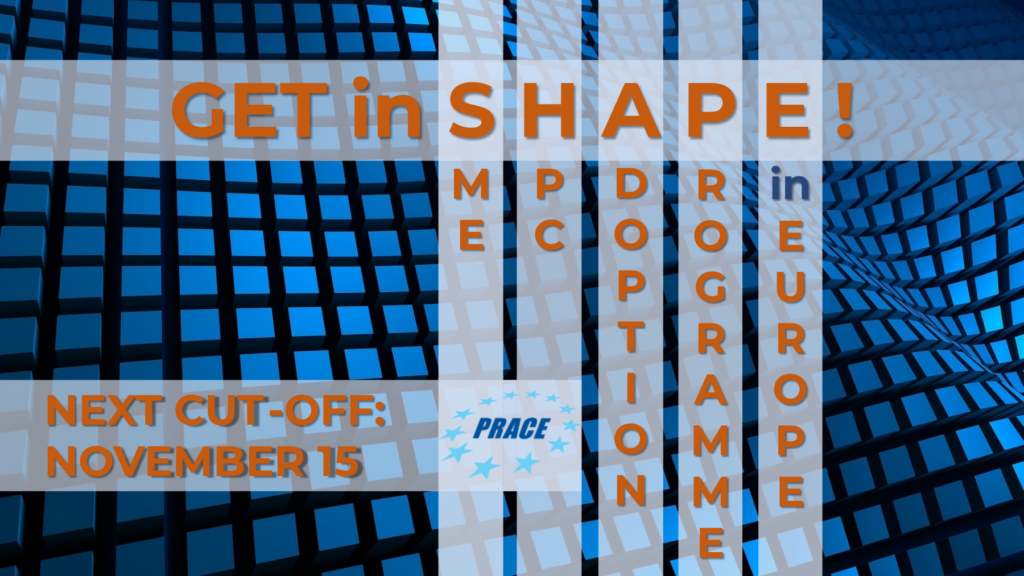 SHAPE offers European SMEs the opportunity to:
Use HPC for business innovation
Increase competitiveness
Benefit from the expertise and knowledge developed within the top-class PRACE Research Infrastructure.
The Fourteenth Call for Applications to SHAPE (SME HPC Adoption Programme in Europe) invites applications from European SMEs with an interesting idea that would benefit from High Performance Computing for increasing their competitiveness. SHAPE aims to work with selected SMEs to introduce HPC-based tools and techniques into their business, operational, or production environment. The selected solutions should bring a potential tangible Return on Investment to the SME's business.
The SHAPE process is as follows:
The SME can send the completed application by e-mail to shape-application[at]prace-ri.eu The form in Microsoft Word format can be found HERE. If you have any questions do not hesitate to contact us: eurocc@nscc.sk
The applications are then reviewed and rated, based principally on the strength of the business case and technical feasibility of the proposed work. The successful SMEs can then receive machine time on a PRACE system, and most importantly effort from a PRACE expert to work alongside the SME in evaluating and/or developing the HPC-based solution. In return the SME provides in-kind effort, publicity of their participation in SHAPE, and together with the PRACE expert, produces a public white paper on the work achieved in the project at its conclusion.
PRACE experts will work with the selected SMEs in order to develop their solutions, providing the participating SMEs with knowledge that will allow them to make an informed decision on the selected HPC solution.
For more information and to apply please visit PRACE SHAPE.